Is marriage on your mind? It is definitely sure that your beloved will tell the story of how you proposed her to her friends for the rest of her life. Thus, put you own spin on great ideas to make the proposal memorable forever.
After getting up, you are so excited to make a creative and romantic proposal. Here, unique marriage proposal ideas will help you to make a big impression.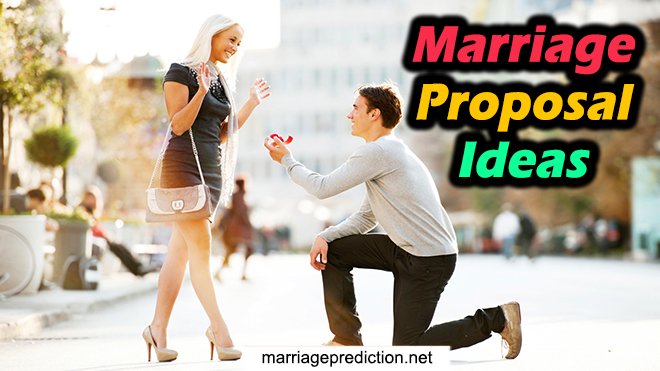 Best Romantic Marriage Proposal Ideas
Take your beloved to the previous place where both of you had your first date. Keep silence a little, and then say something you love such as we have had an awesome journey each other so far, and now I hope we get ready to take the close step in the love journey. I desire you will do me the honor by getting married me.
Christmas is a perfect holiday to propose. Put the ring box inside bigger boxes. It is certain that your lover thinks of a very big present. Once each of the layers is opened, her laughs will grow. Finally, get your knee down as the last box is opened and ask "Will you marry me?" Wow! It is so romantic, isn't it?
You can give your beloved a sensual massage, and then put the left hand for last. Once massaging by that hand, slip the ring on her hand and get ready to pop the proposal.
First of all, play a funny game each other. When your sweetheart's turn comes, honestly ask you question "Will you marry me?" rather than writing it on the card.
Simply buy a box of chocolate for your beloved, and change chocolate into the ring. When she opens the box, get your knee down and ask her.
Go for a walk on the street and sing "Will you marry me?", and ask "do you hear what I'm singing?" Then, drop on one knee to pop the question.
Let's plan an amazing trip by using circuitous routes and blindfolds. Once getting to your destination, immediately pop the question. If you plan to stay with her overnight, don't forget to prepare a bag for her.
Restaurants, coffee shops, and stores are wonderful places to propose. Call these locations beforehand, and receive their cool ideas on the best way to make a proposal. It can be written on a plate or wait for the waiter to deliver the ring along with your ordered wine.
There are still many of the romantic "Marriage Proposal Ideas". If you want to know more about them, please send us your questions in the box below.