Don't want to get married at that time? Yearn to live freedom more before coming to the martial life? Find the ways to avoid getting married soon?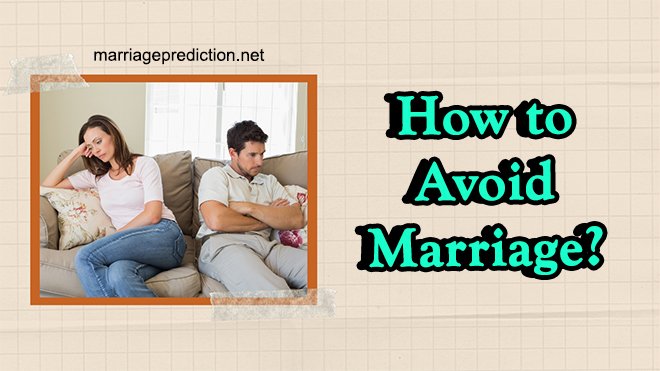 Believe it or not, some people don't hesitate to find any way to avoid marriage. Why? Maybe they desire to have stable and good career before getting married. Perhaps they think that they are too young to become the further fathers or mothers. Or even maybe they are afraid of the spousal lives for some personal reasons. Anyway, most of us want to live with partners in the rest of our lives. However, if we have not currently desired to get married yet, this article can be very useful for consultation.
The greatest ways to stay away from marriage and other committed relationships
Don't let marriage-related issues influence our mind, career, hobbies when we don't have any preparation for this. Here are some ways that assist us in dodging lots of the matrimony questions from others around us:
Make up our mind! Yes, it is very important!
It is time to convince ourselves that the decision about spousal life shall be only taken by us, and not under any impact from our family members, close friends or our "special someone". Sometimes, their ideas can change our mind easily. For example, when seeing some of our close friends getting married, our parents tend to urge us to do the same. At that time, keep our decision stable and gently tell them that it is not a right time to think about marriage.
Have a close and honest dialogue with our sweetheart
Try to make him and our beloved ones understand that this is our decision. Tell them that we have not thought of wedding currently yet, and we have attempted to build our stable career first. Once getting an understanding of our desire, they will be willing to accept it.
Be tough with our choices
It is a right time to consider everything when we realize that a guy we are presently dating has a tendency to force us into the spousal life, by hook or by crook. At that time, don't hesitate to stop communication for one or more two days. If things seem not to be improving, don't be hesitant to kiss and say goodbye to him. We can not urge him to wait for us, and he may not force us to do anything we are not ready to do.
Before we accept to become his lover, or date him, it is better for us to let him know that we don't want to get married soon and beforehand. Don't forget to mention it as clear and specific as possible so that he can understand what our intention means. Tell him that we are pleased and appropriate for his same standpoint.
We will find it totally hopeless to pick out our relatives, but it is sure that we are always allowed to select our friends. In fact, friendship is considered as the most beautiful bonds in all of the relationships. Don't be afraid to make friends for life. Even if this special friend of ours has tended to start developing feeling for us, let him know our intention of not entering the marital relationship soon. However, we can ensure our commitment to lifelong friendship.
Don't put our trust in the surveys
Bear in mind that happiness does not rely much on our relationship status. Don't believe that only married people just get the blissful moments. For singles, they also enjoy a lot of pleasure and enjoyment from life such as shopping with the close friends, having meal with their family members or even taking a journey with their co-workers.
To know additional information about this subject "How To Avoid Marriage?" you are able to leave your inquiries in the box here.
---